It's time to get shady. Now that we've hit the steamy summer months, it's important to be mindful that sun exposure occurs all day long. Visible and ultraviolet (UV) light can penetrate even through clouds, on a rainy day, and through the glass windows of our homes and cars. But, you can limit sun exposure by wearing hats/gloves/sun-protective clothing and avoid direct exposure between the peak hours of 10 a.m. to 3 p.m.
When it comes to choosing a stylish summer hat, pick one that will keep you cool, calm, and protected. Here are some of our favorite new styles that can complement a range of summer outfits — the maxi dress, beachwear, pool wear, swimsuits as well as fun summer activities — the  outdoor party, garden wedding, and walk in the park. These favorites, with their large brims, also serve a pedestrian need—UV protection!
Eric Javits, Striped Grosgrain Ribbon Floppy Hat
saksfifthavenue.com
This high contrast design of grosgrain ribbon offers a classy lightweight style with a 6″ brim, perfect for sunny days.
Photo: Courtesy of saksfifthavenue.com
.
.
.
.
.
Zara, Large Wide-Brimmed Hat with Frayed Edges
www.zara.com
For a casual outfit, add a stunning pop of red in this frayed-edge floppy number and jazz up any ensemble.
Photo: Courtesy of zara.com
.
.
.
.
.
.
.RELATED: The Ten Commandments of Sun Protection
.
.

Ryan Roche, White Panama Hat
myshopify.com
Pair this elegant white straw panama hat with your favorite summer floral dress.
Photo: Courtesy of myshopify.com
.
.
.
RELATED: How Your Skin Can Flourish in Summer
 .
.

French Connection, Wide Brim Black Floppy Hat
asos.com
This fashion-forward hat is a statement on its own with its woven straw design, domed crown, wide-cut, floppy brim and elegant modern black color.
Photo: Courtesy of asos.com
.
.
.
.
..
Photo: Courtesy of orchardmile.com
This past Monday, the Council of Fashion Designers of America (CFDA) held its CFDA Fashion Awards in New York City. The annual event recognizes the outstanding contributions made to American fashion by individuals from all areas of the industry and related arts.
Several game-changing women who have been dominating the fashion world consistently over the past decades were honored: Michael Kors presented the Lifetime Achievement Award to the stunning 70-year-old Norma Kamali, and Calvin Klein presented the Founder's Award in Honor of Eleanor Lambert to the indomitable 67-yeard-old Donna Karan.
RELATED: Fashionable Women Over 40 to Follow on Instagram
But it was Beyoncé who stole the show.
Many of us first learned about fashion and style from watching the women in our families. And although she might be a fashion icon in present day, when Beyoncé was presented with the Fashion Icon Award by CFDA president Diane von Furstenberg, she shared a moving story about her grandmother and mother, Tina Knowles, as her first fashion models. In the early days of Beyoncé's group Destiny's Child, Knowles served as both designer and seamstress for the group's costumes. Beyoncé even divulged that it was her mother who designed her wedding dress, prom dress and first Grammy dress. She told the audience:

Many of you guys don't know this, but my grandmother was a seamstress. My grandparents did not have enough money, they could not afford my mother's Catholic school tuition. So my grandmother sewed clothes for the priests and the nuns and made uniforms for the students in exchange for my mother's education. She then passed this gift onto my mother and taught her how to sew.

Starting out in Destiny's Child, high-end labels didn't really want to dress four black country curvy girls, and we couldn't afford designer dresses and couture. My mother was rejected from every showroom in New York. But like my grandmother, she used her talent and her creativity to give her children their dreams. My mother and my uncle, God rest his soul, made all of our first costumes, individually sewing hundreds of crystals and pearls, putting so much passion and love into every small detail.
Watch the fashion icon's full speech below: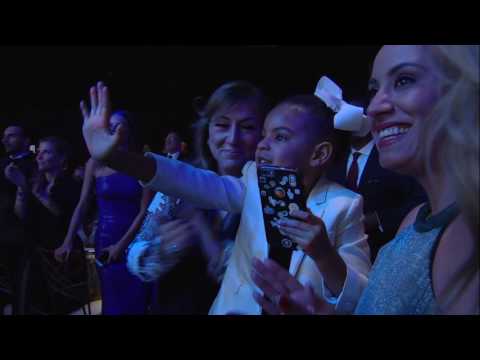 RELATED: Artist and Designer Susan Ritter Finds Beauty in the Natural World
The re-imagined "Beachcomber Espadrille" from Libby Fitzgerald's new company, Sea Star Beachwear. (Photo courtesy of Sea Star Beachwear)

Libby Fitzgerald and her innovative take in designing the modern espadrille is proof that necessity breeds invention. And in her case, reinvention!
Every summer, the espadrille makes all the lists declaring it among the "season's hottest styles." And why shouldn't it?  The espadrille is rooted in a rich history dating back to the 14th century with origins in Pyrennean Catalonia (Spain/ France) where both men and women wore them. The shoe is typically fashioned with canvas or cotton fabric, but it is the jute rope sole that has been its defining characteristic.
Libby Fitzgerald.  (Photo courtesy of Libby Fitzgerald)

Fitzgerald, who deems the timeless espadrille one of five key pieces in her closet that makes her feel her best self, has always loved the aesthetics of the shoe but needed it to be functional and versatile as well to match the demands of her day-to-day. She's no stranger to the act of reinvention and all that it requires — she's had to reinvent herself a few times. (See below for our Q&A with Fitzgerald for her personal definition of "Reinvention" and her advice for women in mid-life who have a desire to start their own ventures.) She has been integral to the high-pressure public relations field through her work with Hermès Paris, managed a family business, Greyledge Farm, for many years, has served as long-term board member of The Society of Memorial Sloan Kettering in New York City, and equally important, prioritizes her role as a mother. In addition, she has an active, seaside lifestyle — the benefits of which our Dr. Cecilia Ford wrote about just this week.

In a recent interview with Beauty and Well Being, Fitzgerald shared how necessity led to inspiration: "I was looking for a shoe that I could wear into the water that was also attractive enough to wear to lunch, around town, and boating. I found that no shoe existed that could serve all these purposes at once."
It was this absence that led Fitzgerald to her big bold idea: To design a multi-functional, water-friendly espadrille that can be worn in water and dry quickly, can protect feet from cuts and scrapes, can be non-marking and non-skidding and handle the decks of boats, can navigate sand and rocks on the beach, and can easily transition for a casual lunch in town. All the while, this version of the espadrille would still honor the three Cs for footwear: Comfortable, Chic, and Classy. A tall order, indeed!
To do this, Fitzgerald and her business partner Michael Leva (who has over 30 years in business) would think carefully about marrying fashion with design. So, they re-imagined the classic espadrille's fabrication and created a modern version that featured a neoprene upper and a rubber "boat-shoe" sole. The result is the "Beachcomber Espadrille" and the birth of Sea Star Beachwear.

Memorial Day: In the spring of 1954, when I was twelve, I shuddered every time I heard the words or saw them in the Hartford Courant.
Memorial Day parade!  Memorial Day cookouts! Memorial Day appliance sales! How could there be a holiday with Death in its very name?  Shouldn't we be hiding under the bed?
I had no bandwidth to spare for long-gone heroes. I'd been conscripted for the Cold War, an unarmed child soldier who expected to die before the end of sixth grade. A Soviet hydrogen bomb would smoosh me as I cowered beneath my school desk. Or my blood and bones, poisoned by fallout, would dissolve with excruciating slowness.
If you think of terrorism as a post-Millennium invention, you're too young to remember the Frightened Fifties. The terrorists weren't just the Reds who pointed their missiles at us. Our own politicians paralyzed our hearts with their patently bogus preparedness plans. "Shh!" and closed eyes during air raid drills would save Beach Park School? Sardines in thin tin in the home cellar hidey hole would keep my little brother alive for a year? Pu-lease.
I grew up in West Hartford, Connecticut, a serene and secure hamlet—except that in the still of night, I heard the thrum of fighter engines being tested at Pratt & Whitney. On Avon Mountain, where we liked to picnic, an ICBM pointed its lethal load at the USSR, making us a target. I was sick with fear. I often couldn't go to school. 
My parents were tearing their hair out. They sent me to a shrink. He ritually offered five candy bars and asked me to choose one (an edible Rorschach test?) He hooked me on Fifth Avenue, salty-sweet ahead of its time.  He didn't fix my psyche.
And then my mother had an apercu. She made Memorial Day all about clothes. I can imagine her excitedly telling my father her plan. She would swap out my dread of the Russians for knee-knocking fear of the fashion police. The phrase wasn't yet in currency, but the concept was huge in West Hartford.
On a mid-May Monday when I couldn't go to school (Mondays were the worst), my clever Caroline told me to comb my hair—we were going shopping.  We drove to the sprawling white Lord & Taylor at Bishops Corner, a prototypical mall, exotic back in the day. Who knew it would help to ruin downtown Hartford, downtowns everywhere?
First we had lunch in the Birdcage. Don't ask me what I had for breakfast yesterday morning, but I perfectly remember what we ate that day sixty-some years ago.  Wee crustless sandwich triangles, no two alike in bread or filling, were served atop a bright chopped salad in a wooden bowl. Sublime!
Then on to the shoe department—be still, my faithless heart, about to abandon Keds—where I fell besottedly in love with Capezio ballet flats.
They were supple on the feet and almost edible-looking, summer colors beguiling as the confectioner's glaze on the petit fours at Lorainne's pastry shop. The flats had a skinny bow at the top and a hint of elastic, like real dancers' shoes!  I was an OK shortstop, but I'd flunked modern dance, let's not even dream about ballet.
You need to know that when my mother was twelve, a girl named Frieda Lubachevsky, who lived across the street, was locally famous for compulsively wearing just-bought clothing. A winter coat her mother found for half-price in August?  Frieda wore it home from the shop, no matter the torrid sun. On that first Capezio-buying trip I found my inner Frieda. I wanted to put my sneakers in a bag and wear the glorious sky blue flats right then and forever more, at least until my mother brought me back to buy the pink. Or maybe next time the green?  Frieda, help!
"Oh, no, honey," my mother said.  "You can't wear pastels before Memorial Day."
"What do you mean, I can't?"
"It's just not done," she said—my rebellious ex-commie mother the painter, whose oils and sketches of nudes hung between her landscapes and flowers in our home. (1954!) She looked to our patient shoe salesman for corroboration.
"That's right," he said heartily. "The way a man can't wear a seersucker jacket before Memorial Day. Or a straw hat. Before Memorial Day or after Labor Day." He looked shocked at the idea. "Your lovely new shoes are for summer. Shouldn't you be in school, young lady?"
"We're on a field trip," Caroline said. "That's a charge, please."
"But why can't I wear them now?" I asked desperately, as the salesman peeled the flats off my feet and eased them into their tissue-lined box.
 RELATED: Fashion Friday: The White Dress
Elizabeth Taylor in a MuuMuu Dress. Is it modern?

Earlier this week, the Museum of Modern Art (MoMA) in New York invited a dynamic list key of designers, curators, critics, scholars, activists, and entrepreneurs to debate a singular idea: Is Fashion Modern?

The gathering served as a precursor to MoMA's upcoming 2017 exhibition Items: Is Fashion Modern?, which will feature 99 iconic garments and accessories that have had "a strong impact on history and society in the 20th and 21st centuries, and that continue to hold currency today."  
Some of these iconic items include: the Little Black Dress, the Fur Coat, the Blue Jean, the MuuMuu Dress (seen above on Elizabeth Taylor), the Turtle Neck, among many others. What the debaters beautifully explored (see the full video below and here) is this complicated relationship between our clothes and the stories they tell. In other words, fashion is not just about shopping for pretty things or, things that make us feel pretty. It is also about the narratives embedded in those items that we don each day — narratives that are almost always steeped "functionality, cultural etiquettes, aesthetics, politics, labor, identities, economies, history and technology." 
RELATED: New Fashion Films for Your Must-Watch List
At Women's Voices for Change, we too have been exploring this relationship through our profiles on women's role in fashion. Earlier this Spring we wrote about how fashion depicts power seen beautifully in the power suits worn by the leading women in CBS's The Good Wife. Later, we also broached the question of fashion's role in cultural diplomacy by looking at how several designers are using their designs to counter censorship and exclusion of the "modest" aesthetics of Muslim women.

In 2014, we wrote about Jacki Lyden's NPR show, The SEAMS, and her beautiful philosophy:  "Clothing Is Our Common Thread: In Every Stitch, a Story." As  a foreign correspondent for many years, Lyden shared with us that she created The SEAMS because she really believed in "fashion as a common human experience, a historical reference, and a connective tissue between cultures."
What we've learned is that although the answer to the question of "Is Fashion Modern?" might be an obvious  "Yes!" The  real answer is: "It's Complicated!"

RELATED: Fashion & Technology: The Best Fashion Apps
Juliana Margulies in The Good Wife (CBS)
Much has been written about the final episode of CBS' The Good Wife. And an equal amount of time and analysis have been dedicated to the show's fashion choices, which have functioned as their own performance of larger messages, symbols, and ideas about women and power.

The Atlantic declared that the show's costumes for its leading ladies spoke to "feminism and class and the complex interplay between the two." The Wall Street Journal opined that the show's fashion tricks  "amount to real solutions for mature women." And The Washington Post dissected the heroine Alicia Florrick's black Giorgio Armani jacket worn in the show's last scene as a choice that "stirred up connotations of power and armor."
The show's leading women are high-powered lawyers played by Julianna Margulies, age 49, and Christine Baranski, 64. "The impact of these shows is that they've taught women over 50 that clothes are a powerful part of their identity—not to be so shy about clothes, to put themselves out there further and try new things," said Betsy Fisher, whose namesake fashion line caters to executive women.
Over the past seven seasons, Margulies and Baranski's stellar suit game has been curated by the talented three-time Emmy nominated costume designer Daneil Lawson. And how Lawson has dressed these Hollywood women over forty matters here. "The Good Wife is a later-in-life bildungsroman, a televised reassurance that one can come of age at any age; its clothes reflect those evolutionary impulses," writes Megan Garber for The Atlantic.
Christine Baranski in The Good Wife (CBS)
The show's costume aesthetic also speak profoundly to the intersections of power and femininity. In an interview for ELLE, Lawson talked about the importance of maintaining the feminine in the characters' looks: "One thing we set out to have women look feminine in the workplace and not look like men. We didn't want them to look masculine. We have three strong female leads on this show, why do we want to make them look like men? Or why do we want to dress them in a masculine style? We want them to look strong and feminine and elegant and powerful, all at the same time."
Let's quash the "mom jeans" stereotype for good with these fashionable finds for the stylish mothers, grandmothers and great grandmothers in your life.
Code "Love" Necklace, lulufrost.com. Inspired by the idea of hidden messages and symbols found in Victorian jewelry, this gold necklace spells out the word 'love' using Labradorite, Opal, Violet Amethyst and Emerald.  Or, you can create your own custom word piece, perhaps the name of your beloved mother.
.
La Perla "Whisper" Robe, net-a-porter.com. The Whisper Leavers lace-paneled stretch-jersey and silk-georgette robe is cut from soft midnight-blue jersey woven with a touch of stretch for comfort. This elegant piece has sheer silk-georgette sleeves and delicate Leavers lace cuffs.

Kate Spade Cameron Street Candace Satchel, katespade.com. The Cameron Street Candace combines a classic shape with a number of clever details, including exterior slide pockets, a dropped zip-top closure, an optional (and adjustable) shoulder strap and a matching decorative luggage tag. The result is a clean-lined, functional bag that looks chic with everything from a skirt suit to jeans.
Being smart about your fashion app game goes beyond Instagram and Pinterest. Here are some of the savviest fashion apps for both the techies and the style-conscious.

RELATED: Fashionable Women Over 40 to Follow on Instagram
Rent The Runway
For the budget conscious fashion lovers, Rent The Runway allows you to loan the latest beauties from the runway without having to actually buy anything new. We love that the app allows you to choose from thousands of designer dresses and accessories (think Badgley Mischka, Kate Spade New York, Halston Heritage and more) and they take care of the dry cleaning!

Vogue Runway
The Vogue Runway fashion app is the ultimate fashion authority. What you get is unlimited access to global fashion shows — the latest ready-to-wear, couture, resort, pre-fall, and menswear collections. The Vogue Runway app also includes a complete archive of more than 12,000 fashion shows and more than 1 million runway photos dating back to 2000.
RELATED: Favorite Looks from New York Fashion Week
Polyvore
If you love going to Polyvore site, you'll love the app just as well. Polyvore helps you discover outfit ideas, style your own looks and shop products you love from the world's top brands and retailers.  "If you're ever in an 'I have nothing to wear' mood, this app comes in handy," says Harper's Bazaar.
RELATED: Five Women Jewelry Designers Of Note
On Monday, May 2, the Metropolitan Museum of Art will host another iteration of the MET Gala — the star-studded precursor benefit for the museum's annual Costume Institute exhibition. In the fashion world, the first Monday in May is known as the biggest day of the year, or its "Super Bowl Sunday"as many call it. This year, the exhibition, "Manus x Machina: Fashion in an Age of Technology" will focus on the dichotomy between handmade haute couture and machine-made fashion.
In tandem for the unveiling of the anticipated 2016 exhibition, the new documentary, The First Monday in May (released April 15 and in theaters now ) takes a candid look at the the Costume Institute's preparations and dramatics as it prepared for last year's ambitious exhibition "China: Though the Looking Glass" and its ultra gala.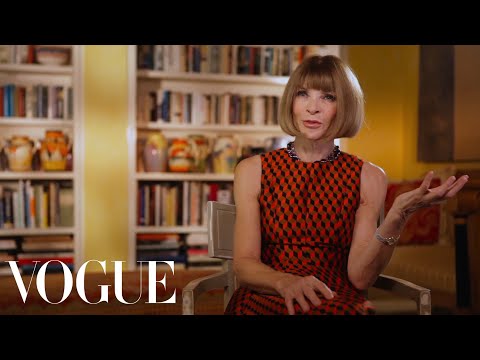 "With unprecedented access, filmmaker Andrew Rossi captures the collision of high fashion and celebrity at the Met Gala, one of the biggest global fashion events chaired every year by Vogue editor in chief Anna Wintour. Featuring a cast of renowned artists in many fields (including filmmaker Wong Kar Wai and fashion designers Karl Lagerfeld, Jean Paul Gaultier and John Galliano) as well as a host of contemporary pop icons like Rihanna, the movie dives into the debate about whether fashion should be viewed as art." (Read more)

RELATED: The Documentary 'Iris' Captures a Rare Bird Indeed
The runways last fall prepped us for what would be trending for the spring season. Surprisingly, but quite provocatively, abundant shades of red – considered more of a summer/fall color — showed up in designer collections. Although it's not a predictable spring hue, a pop of red never disappoints to illuminate and make any outfit vibrant. Our friends at MORE magazine are calling this trend "Scarlet Fever," declaring, "Crimson, cardinal, flame, ruby, tomato, claret. This bold, fiery hue dates back to cave art, and its power endures today." Here are some red hot ideas from our favorite designers' spring collections to enhance your wardrobe.

Jewelry, we agree, is an art form. And the jewelry designer is an artist. 
On April 11, the Museum of Arts and Design (MAD) in New York City will once again reveal a bounty of jewelry loot in the aptly titled, LOOT: MAD About Jewelry, its annual exhibition and sale featuring designs from more than 40 emerging and acclaimed international jewelry artists. Now in its 16th year, LOOT has become known as the ultimate pop-up shop for contemporary artist-made jewelry, where jewelry enthusiasts, of both the modern and traditional aesthetic, have the rare opportunity to view and acquire pieces from some of the most innovative creators in the field.
LOOT inspired us to think about the talented women designers who inspire our jewelry wishlists with innovative and stunning designs. Here are five women who honor craftsmanship, a passion for color, and a belief in jewelry that is timeless. And, remember to follow these fabulous women on Instagram!

RELATED: Priceless–Verdura Jewelry at 75
MONICA VINADER
Monica Vinader is a British luxury jewellery brand with wearable, contemporary pieces to style, stack and personalize with engraving. At her debut in 2008, Monica Vinader won Brand of the Year at the UK Jewellery Awards.
RELATED: Artist and Designer Susan Ritter Finds Beauty in the Natural World
DANNIJO
The Snyder sisters, Danielle and Jodi who form DANNIJO, are passionate about jewelry design and philanthropy. Since its inception in 2008, DANNIJO has advocated creating sustainable economic opportunity for women in underdeveloped areas of the world. All DANNIJO.com packaging is handmade in Rwanda as part of their women's empowerment initiative in parternship with Indego Africa.
Not only does Spring signal a fantastic new fashion season, it also welcomes a slew of new and enticing fashion stories, histories, memoirs, and look books. Here are five fabulous books newly released this March that feature everything from break out stars in jewelry design to a behind-the-scenes look at New York Fashion Week.

(Click on the book image to purchase on Amazon.com and help support Women's Voices' mission.)
Pamela Love began making jewelry in 2007 in a closet studio space in New York City's garment district. She quickly won a CFDA award and her collection was soon stocked by boutiques around the world. Love's creations are deeply spiritual and intuitive, influenced by astrology, alchemy, botany, and the materials and textures of the American Southwest. Her inspirations are steeped in folklore and she incorporates traditional tribal artisan patterns from North Africa, Mexican folk art, and medieval European iconography into her designs. In this personally curated monograph, Pamela Love: Muses and Manifestations, Love presents intricate still life compositions of her jewelry with objects and ephemera, juxtaposed with photographs from her collections and snapshots from her travels.

Frida Kahlo was not only an iconic artist but also a daring fashionista whose unique style continues to inspire and influence the worlds of fashion, media, and art today. Fashion is an optical effect that Kahlo employed with shrewd intelligence and artistic intention, and her original, multicultural aesthetic made her the center of attention wherever she went. Frida Kahlo: Fashion As The Art of Being is a vibrant tribute to Frida Kahlo's bold character, style, art, and fashion and reflects the kaleidoscopic ways her unique story and personality have been interpreted and adapted as few others in our time.
RELATED: The World of Frida Kahlo
This spring, the hottest trend is the opposite of the predictable florals and pastels. Instead, it's the simple and elegant black and white that is causing all the buzz again — but with a twist. Graphic patterns in black and white are all the rage and are giving the classic look a 21st century edgy upgrade. Yet, it still maintains the minimalist look we all love when we don a black and white pairing. Here's some of our favorite pieces featuring the graphic black and white.

RELATED: Ode to Black on Black Friday
Kate Spade
Emerson Place Phoebe Tote
What is the plus-size woman's place within fashion?
This is the question a recent exhibition, Beyond Measure: Fashion and the Plus-Size* Woman examined. Produced by the Masters of Arts Candidates in New York University's Visual Culture: Costume Studies Program, the exhibition used a collection of objects coupled with the perspectives of designers, manufacturers, the general public, and "plus-size" women to explore what it called a "complicated cultural construct."

The exhibition was on view from January 13th to February 3rd of this year. However, the online guided tour component is still accessible with a treasure trove of audio and visual guides.
RELATED: The Elusive Quest for Healthy Self-Esteem
Undoubtedly, the term "plus-size" is a burdened one. So much so that the curator of the exhibit, Tracy Jenkins, clarified exactly what they mean in using the term.

The fashion industry has played an undeniable role in enabling the stigmatization of larger women's bodies. Despite consumer needs, plus-size fashion has traditionally been given little sartorial energy. Yet women of all physiques have had to clothe themselves, and thus have stood somewhere in relation to the fashion system. The plus-size woman's place within the history of the body and her space within the fashion industry . . .  emphasizes her relationship to gender and body politics as well as cultural attitudes toward beauty and health.
Earlier this week, we saw the women of Hollywood get glam for the 88th Annual Academy Awards. Elegant silhouettes and bold colors were the trends on the red carpet. Here are our picks for the Best-Dressed Women at the Oscars.
Charlotte Rampling in Armani Privé
Priyanka Chopra in a Zuhair Murad dress and Lorraine Schwartz jewelry with Rauwolf clutch
RELATED: The Fashionable Women in TV
.
Cate Blanchett in an Armani Privé dress and Tiffany & Co. jewelry Read More »
RELATED: Movie Review: 'Carol' — A Love Story